Myvatn Wilderness Snowmobile – Day Tour
Book Now
Snowmobiling in Mývatn area - Travel into the wilderness of Mývatn region - Snowmobile for 2-3hours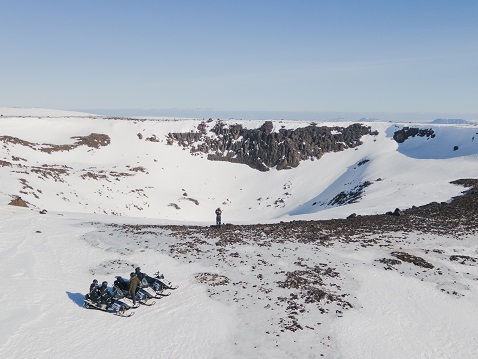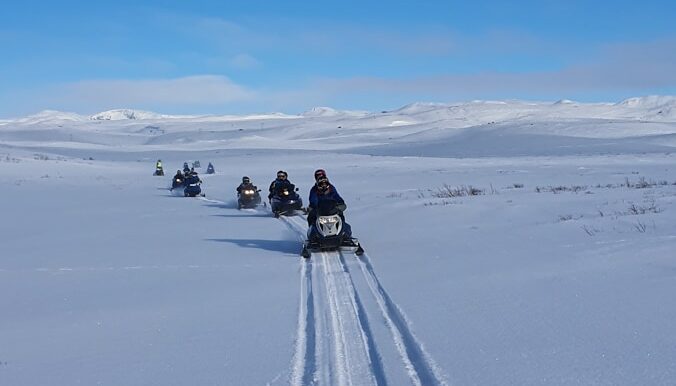 Half day – Wilderness Snowmobiling In Mývatn North Iceland
Enjoy a day out in the wilderness of the Northern highlands, exploring remote areas with local snowmobiling guides.
The tour departs form our Snowmobiling basecamp. The tour starts with an Introduction, dressing up and safety briefing. Depending on Conditions, either the tour starts directly from the farm or a short transit to the mountain area of Krafla Volcano.  
What to expect
The goal of this snowmobiling day tour is to both enjoy the drive on snowmobiles but also to explore the incredible area surrounding the Lake Mývatn region. Each tour the Guide will select a different track, depending on both snow and weather conditions. You should expect a contrast of volcanic landscapes, wetlands, forests and mountains.  We try to select a rack each day that fits beginners . Lake Mývatn is a great location for snowmobile touring due to the relatively flat landscapes. We avoid steep inclines and hills to make the journey safe.
During the tour customers can expect to spend approx about 2-3hour driving the snowmobile. During the tour customers can have the opportunity to stop and explore interesting landscapes and natural phenomenons. The tour covers great distance over wast open spaces so sometimes it is also important just to stop and take it all in. 
Your Guides
All our Snowmobiling guides are highly experienced in snowmobiling in the area, this is important to be able to navigate the area and provide the most enjoyable tour for you.
The snowmobiles
The Snowmobiles are so called "touring snowmobiles". Touring snowmobiles are designed for long distance driving and to make them as comfortable as possible. These are the kind of snowmobiles used in the Mývatn area by the locals and farmers for traveling in the area as often during winter, snowmobiles are simply the best way to get around.
You can also take a look at our Snowmobiling Mývatn Website