Askja By Bus.
Book Now
Askja Volcano - Herðubreiðarlindir - Drekagil Gully - Gljúfrasmiður Waterfall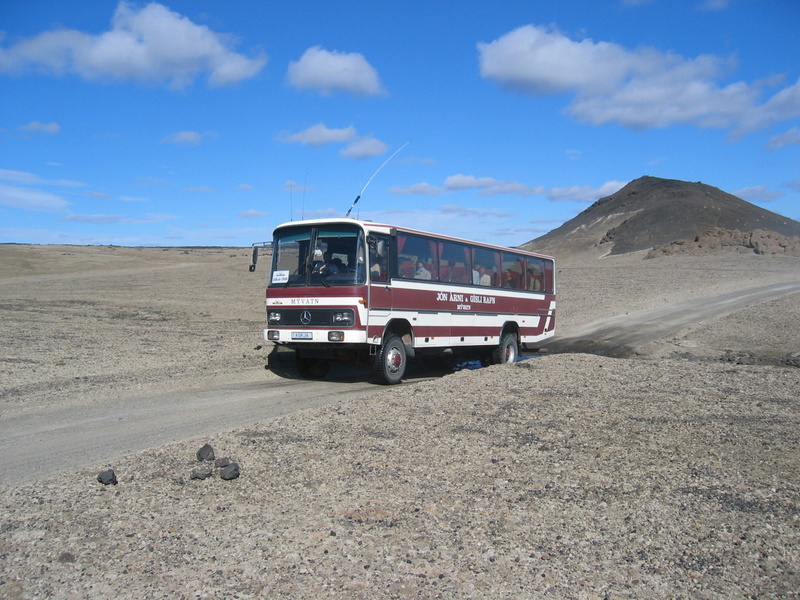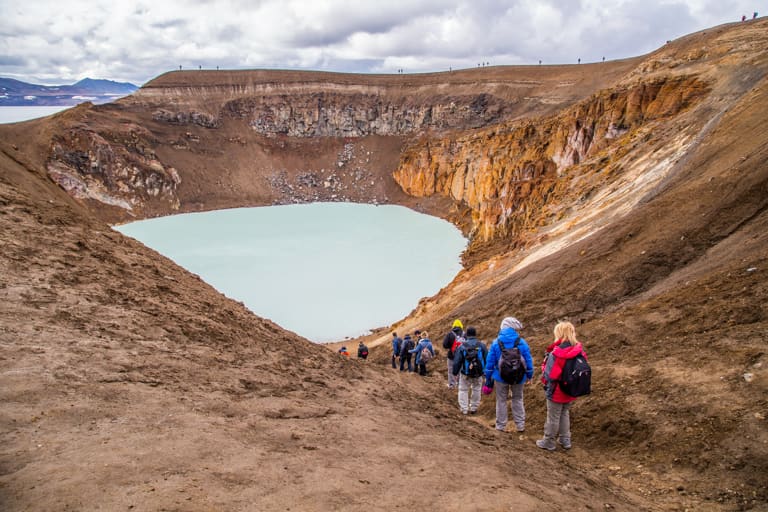 Askja Caldera By Bus.
Operated by our Partners at Mývatn Tours whom have for many years offered quality service Askja bus tours from Lake Mývatn. The buses are 4×4 and seat up to passengers, they're experienced drivers and local guides will make sure that you will have a safe and informative day by Askja Caldera area.
Askja Bus tour stars from Lake Mývatn, from Mývatn you head to the highlands. There the wilderness, wide spaces, geology and natural freshwater springs seem as from another planet.
First stop is at Herðubreiðarlindir oasis, a 30-45 min stop gives you the time to explore the fresh water springs and walk to the outlaw's hut. as well as having a light snack.
Next stop is at Gljúfrasmiður Waterfall, step out in the lunar landscapes to visit the "canyon-maker " Waterfall
Main stop of the Day is at Askja itself, There a 2.5-3 hour stop gives you the time you need to hike to the caldera lake and visit Víti explosion crater.
Before our drive home we make a pick nick stop at Drekagil"Dragon's Canyon"
The bus stops by one of the craters formed in the 1961-eruption. An easy but long 35 minute walk leads you to the rim of Lake Öskjuvatn and Víti crater, After enjoying the unearthly quietness and bizarre landscape of Askja our passengers return to the bus and drive back to Lake Mývatn.
Please note* minimum age of children for this tour is 6 years old. (for families with younger children we recommend a private tour)
Bath at Víti Crater? 
During late summer it is possible to walk down to the water at Víti Crater. The water of the crater is slightly warm 18-24°C. The More adventurous often jump for a once in a lifetime bath. Bring your swimwear if you are feeling adventurous.
What to Bring with me for the Askja Bus tour?
Bring:
Warm and waterproof clothes
Good hiking shoes
Food and drinks for the whole day
Towel and swimming clothes ( for the adventurous)
A private tour is a great option if you wish to have full flexibility in your travels to make sure that the schedule is 100% yours. Private tours for groups
*Note: For earlier departures than 15th June contact us for a private tour.
Would You Like to Travel with a Smaller group? Check out our Super Jeep Tour Option
For any further questions please contact us at info@geotravel.is
Map of the Vatnajökuls National Park